Your digital fertility and pregnancy coach built to empower you.
JUBELATION (noun)
The act of celebrating something good
At Jubel, we believe creating life is something worth celebrating. The spirit behind our name is all about empowering your journey—from preconception to pregnancy and beyond. Jubel's DNA contains the expertise of doctors, nurses, and your peers, too. Our mission is to deliver 24/7 access to personalized, medically-vetted information and health and wellness resources. Rather than wait for a callback from your doctor, or asking "Dr. Google," or a friend, why not chat with Jubel? We'll get the answers you need in real-time.
Wherever you are in your Journey, Jubel can help
We live with more options than ever, which means more questions, too. At Jubel, our singular mission is to support a generation of individuals and couples, wherever they are in their journey.
FERTILITY
"I want to get pregnant now—what can I do to up my success."
INFERTILITY
"Trying to conceive and struggling—wish I didn't feel so alone."
PRECONCEPTION
"I want to conceive, but later—what can I do now so I"m ready then?"
PRESERVATION
"Just married and got a promotion but someday we want children. How do I freeze my eggs?"
DONOR/SURROGACY
"We knew we'd need a donor or surrogate to build a family. We just didn't know how to begin."
PREGNANCY
"I'm a first time mom—I wish I had a roadmap!"

Smart
An intelligent system that gets to know you, informed by real-world evidence from others like you

Medically Vetted
Curated insights and advice provided by top healthcare professionals

Personalized
Personalized insights and answers specific to your fertility-related questions.

Proactive
Advice that anticipates your needs along your reproductive journey

Connected
Connect you to resources like a live fertility coach or route you to a healthcare professional

Always Available
Rather than waiting for a call back from your doctor, get the answers you need—anytime, anywhere
Meet your digital fertility coach.
Chat with Jubel as you would with a trusted friend, doctor or nurse.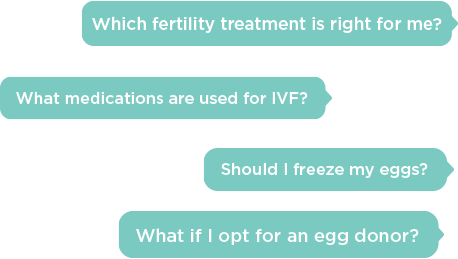 While our full Jubel offering is almost ready for prime time, our beta app, focused on Fertility, is open for limited access.
"What's the word on Jubel?"
"There's so many unanswered questions and I don't know what to ask. Even if I do, I don't always think of it in my appointment. An app that answers questions you may not have asked your doctor or need clarification on is a great idea!"
"Jubel would answer me right away and I could access information that was easily understood. I would come back to Jubel for information because my brain is full with all the hormones, worry and stress!"
"As Jubel learns, it gets easier to find what you are looking for; super valuable because with all the questions that come up you end up googling— and you get back so many different answers!"
"I chose to download Jubel because I could find more reliable answers...it's being developed with doctors, and it's better than Google."