COVID-19, Fertility/Infertility and Pregnancy Info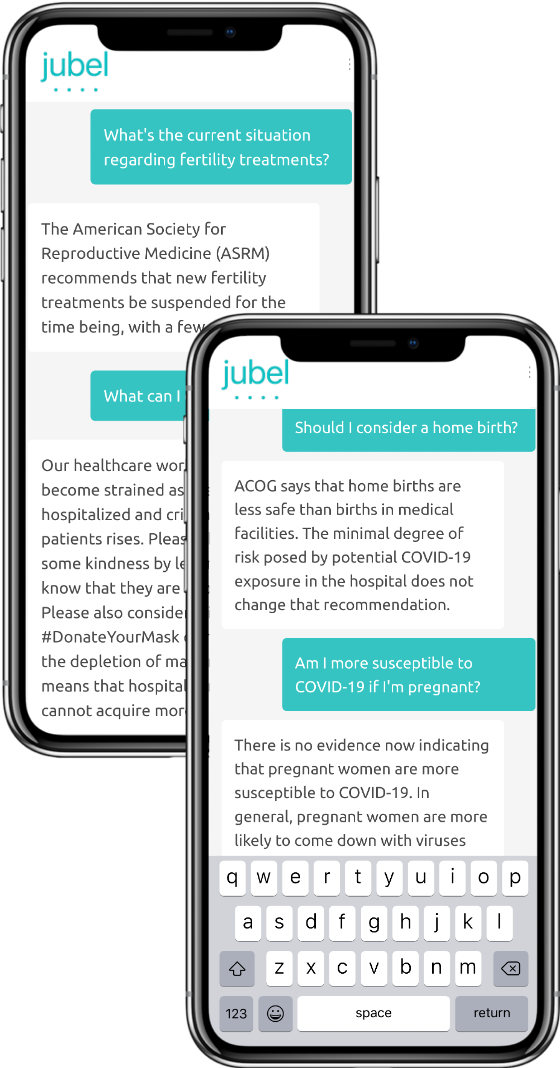 Meet Jubel – your digital fertility and pregnancy coach. Jubel empowers you on your journey from preconception to pregnancy and beyond. Created by doctors and your peers, Jubel gives you 24/7 access to personalized, medically vetted information and health and wellness resources.
While our full Jubel offering is almost ready for prime time, our Medical Advisory Panel is committed to helping you cut through the noise of COVID-19 now. Start chatting with Jubel like you would a friend, doctor or nurse to get your COVID-19 questions answered.
If you still have questions, read our FAQs below or email a question to covid19@jubelhealth.com. You can also send us a message on Facebook. We work to get you an answer quickly! Stay safe.
-The Jubel Team
Q: What's the current situation regarding fertility treatments in the U.S.?
A: Treatment that was put on hold due to COVID-19 may cautiously resume for those who need it most. The first step is to call your practice and find out their plan and procedures for starting up again.
COVID-19 will unfortunately be with us for some time, and the American Society of Reproductive Medicine (ASRM) laid out strategies for how to safely and gradually resume treating patients in this new climate in its guidelines updated April 24, 2020.
Since COVID-19 affects communities differently, clinics with the available resources, whose healthcare systems are not overburdened, may be able to cautiously resume treatment for patients with urgent needs. This doesn't mean clinics will immediately open, it means they can begin to put in process a plan and train staff for how they will open in the face of the current pandemic. This will also be dependent on local government recommendations as well as current case numbers in your area. Sources, ASRM, Dr. Trivax, Whitney Street, BSN, 4/28/2020
Q: Will I be tested for COVID prior to starting?
A: Right now, rapid testing in not widely available, so it is unlikely you will be tested at the very start of treatment. This may change as rapid testing becomes widely accessible. Sources, ASRM, Dr. Trivax, Whitney Street, BSN, 4/28/2020
Q: If my clinic is open, is it safe to resume treatment?
A: Even if your clinic is open, there are still risks to resuming treatment. ASRM identified the following risks for patients:
Unknown impact of pregnancy on susceptibility to or severity of COVID-19.
Unknown impact of COVID-19 on pregnancy including maternal and fetal risks.
Unknowns regarding COVID-19 testing and its reliability.
Potential for treatment cancellation due to exposure, infection, unavailability of PPE, or changes in regulations.
Risk of exposure at clinic during treatment. Sources, ASRM, Dr. Trivax, Whitney Street, BSN, 4/28/2020
Q: If my clinic is closed, should I go somewhere else for treatment?
A: We do not recommend seeking treatment elsewhere. It is likely by the time you establish care and go through a cycle, your clinic will be reopened as well. It is also not recommended that you transport eggs or embryos, so if you plan to change clinics you will want to stay with them throughout your treatment. Sources, ASRM, Dr. Trivax, Whitney Street, BSN, 4/28/2020
Q: What happens if I get COVID during treatment?
A: If you start to display any symptoms of illness during your treatment, it will be cancelled. This is for your safety and the safety of the staff. Many clinics and pharmacies are working with patients to ensure any cancelled cycles due to COVID-19 are reimbursed. You may want to ask your pharmacy about this prior to purchasing medications. Sources, ASRM, Dr. Trivax, Whitney Street, BSN, 4/28/2020
Q: I am planning a frozen embryo transfer, when will I get to resume treatment?
A: For most clinics, they will begin by resuming IVF cycles for those patients who are most at risk for adverse outcomes by continuing to wait. Clinics will open slowly and may not allow FET's until more information and better testing is available. We know this can be very disappointing and feel unfair. We still recommend checking in with your doctor and also reaching out for support if you are feeling sad. Sources, ASRM, Dr. Trivax, Whitney Street, BSN, 4/28/2020
Q: What if I am using an egg or sperm donor or a gestational carrier?
A: Patients using previously frozen sperm can proceed in line with their clinic's reopening plan. For other patients proceeding with third party reproduction, ASRM recommends clinics weigh the risks and benefits of all parties involved before proceeding, but they can proceed if deemed necessary. These decision-making factors include age of donor or recipient, need to travel, and regional differences in disease prevalence. Clinics should implement additional FDA screening of all those involved, specifically a review of symptoms and temperature check during physical exam. All parties should receive additional counseling on both risks and unknowns of COVID-19 as well as risk of cancellation. For intended parents who may need to travel, it is recommended to consult with attorneys and agencies to have a backup plan if they are not able to immediately receive their child after birth. Sources, ASRM, Dr. Trivax, Whitney Street, BSN, 6/01/2020
Q: What precautions are the clinics taking to ensure it is safe to go to their office?
A: Prior to opening, clinics should have a plan in place for how to best protect their patients and staff. This includes increased cleaning/sanitizing services, increased personal protective equipment for staff, continuing social distancing, hand washing, risk assessment screening for all patients and employees, temperature screening and COVID-19 testing, once available. Minimizing the number of people in the clinic (non-essential staff, visitors) and minimizing number of visits will also keep staff and patients safer. Sources, ASRM, Dr. Trivax, Whitney Street, BSN, 4/28/2020
Q: What happens if I get ovarian hyperstimulation syndrome, have an ectopic pregnancy, a miscarriage, or other complications? Will I be able to get safe treatment?
A: Any patient needing emergency services or further treatment would be able to receive it in a safe and timely manner. However, it is only recommended that clinics open if there has been a significant decrease of COVID-19 cases in their region and their healthcare system is not overburdened. Sources, ASRM, Dr. Trivax, Whitney Street, BSN, 4/28/2020
Q: How will it be determined who can start treatment and who can't?
A: In general, people who will be affected most by a delay should be treated first. This means people of advanced maternal age, people with low antral follicle count, low anti mullerian hormone levels, those undergoing chemotherapy or radiation, people with endometriosis, or those who may be losing insurance coverage due to loss of job or other factors. Each clinic will decide individually, so please reach out to your doctor to discuss this.
Q: Will postponing treatment one to two months make a difference?
A: The COVID-19 pandemic is affecting every fertility patient. Getting you back to treatment is a priority for clinics. Postponing treatments will probably not make a difference.  Unfortunately, there's no way to know how your body will react to treatment at any time. Check in with your fertility center weekly. Practices are assessing the local and regional situation regularly to determine when to restart treatments. Research has shown that extended freezing shouldn't impact the embryos which is great news. Source, Dr. Huang, 4/6/2020
Q: Will I still be able to reach my doctor and nurses?
A: Many practices are offering telehealth consults for first time and returning patients, to deliver tests results, and to plan future cycles. Check with your practice to see if you can get an appointment. In the meantime, we're happy to connect you with one of Jubel's REI medical advisors and their practices located in Los Angeles, San Diego and New York.  Email us at covid19@jubelhealth.com and we'll connect you.
Q: Postponing my fertility treatment is causing anxiety/sadness, do you have any coping suggestions?
A: Remember that this is temporary, and you'll be able to resume treatments as soon as it's safe. If you're struggling to cope on your own please contact a mental health provider – many of them are offering telehealth during this time as well as discounted appointments.
Stay healthy and take care of yourself mentally and physically. It's a stressful time and finding healthy ways to manage stress is important. Eat nourishing foods, try new recipes and don't overindulge in alcohol.
Continue to take vitamins and supplements like Vitamin D, prenatal vitamins, folic acid and coenzyme Q-10 so when treatments are back on, you'll be ready to go. Staying hydrated is also important, says Dr. Bradley Trivax, a reproductive endocrinologist in New York.
Stay active with at-home work-out videos. There are many free exercise classes on-line that don't require any equipment at all. There's everything from cardio to strength training to stretching videos for every fitness level, suggests Alice Shapiro, M.D., a reproductive endocrinology fellow at UCLA's David Geffen School of Medicine.
Meditate with headspace or another app. Keep in touch with family and friends using video. Use this time as an opportunity to catch-up with old friends or family members. You've got this. Sources, Dr. Alexander, Dr. Shapiro, Dr. Trivax, 4/6/2020.
Q: What should I eat for a strong immune system?
A: What you eat helps your immune system stay strong, says Jubel's fertility and pregnancy nutrition expert, Emily Mitchell, R.D. Eat probiotic-rich foods daily like yogurt, kefir, fermented foods (kimchi, tempeh, and miso). Mitchell recommends a probiotic drink or yogurt that contains lactobacillus and/or Bifidobacterium probiotics. Choose a variety of vegetables and fruits (buy a combo of fresh and frozen to ensure you have enough on hand). Eat lean protein like fresh and frozen fish, turkey and tofu.
Remember to shop for foods you'll use in one to two weeks. Focus on what you can control — nutrition is one of those things.
She also recommends blending fresh or frozen spinach into a smoothie, or using frozen riced cauliflower instead of rice for extra vitamin C. Speaking of vitamins, consider taking 1,000 to 4,000 IU daily of Vitamin D especially if you are indoors more during the quarantine. Don't take any supplements claiming to kill or cure viruses. Source, Emily Mitchell, R.D., 3/26/2020
You can also check out some additional recommendations provided by a Los Angeles based Fertility Nutrition Tele-Coaching company that works with some our medical advisors – Original Body by Joey.
Q: What do I do if I have symptoms?
A: Depending on severity of the symptoms, you can often treat them at home. The Centers for Disease Control and Prevention say people with COVID-19 have reported a wide range of symptoms – ranging from mild to severe illness.
If you have these symptoms, seek medical attention right away:
Difficulty breathing
Pain or pressure in the chest
Confusion
Trouble waking or staying awake
Bluish lips
Symptoms may appear 2-14 days after exposure to the virus. People with these symptoms may have COVID-19:
Cough
Shortness of breath or difficulty breathing
Fever
Chills
Muscle pain
Sore throat
New loss of taste or smell
Diarrhea
Nausea
Contact your healthcare provider for advice about whether or not you need to be tested. Stay at home, but if you must go out, wear a cloth mask to help lessen the risk of giving the virus to others. Source, CDC, Dr. Copel 5/31/2020
Q: If I need to get tested, what will the test involve?
A: The test is performed using a long Q-tip-like swab that is inserted into both nostrils.  Your provider will wear a face mask, gown and gloves when s/he performs the collection. The swab is then placed into a container with fluid, and snapped off into a container, which is kept cold and then sent to the laboratory. The turn-around-time for the swabs varies by the lab and region but may take several days. Source, Dr. Han, 3/25/2020
Q: Should I delay trying to get pregnant/does COVID-19 impact the fetus in the first trimester?
A: Most OBGYN's aren't telling people not to conceive, and there's no official recommendation to avoid pregnancy in the U.S. currently. It's important to note that there's a lot we don't know about the impact of COVID-19 on a fetus in the first trimester. There could be higher risks of miscarriage or of later growth problems based on data from other similar, but more severe viruses. It's likely that the surge of COVID-19 infection will be over in the next few months, so by the time you're ready to deliver, it won't be as much of a concern. Sources, Dr. Finke, Dr. Han, Dr. La Follette, Dr. Copel 5/31/2020.
Q: What's my risk of getting COVID in the hospital when I go in to give birth? And do I have to self-quarantine for two weeks when I get home from giving birth since I might have been exposed in the hospital?
A: The risk of you getting COVID-19 in the hospital is very low. You have a greater chance of getting it out in the community.
Since you and your care providers are all now required to be screened, and in many cases tested when coming into the labor and delivery unit, the risk is very low. If, however, you test positive for COVID-19 during your time in the hospital, after discharge there will be a period of quarantine.
Medical advice about quarantine is changing quickly, but the most recent data recommends self-quarantine for three days after your fever subsides or 14 days from a positive COVID-19 test. Luckily, most health care workers with any symptoms are getting tested and are home recovering. They're not allowed to return to work until they're no longer contagious, and even then, are wearing personal protective equipment while taking care of patients. Source, Dr. La Follette, 4/23/2020
Q: I'm pregnant and I'm an essential worker or a healthcare worker. What should I do?
A: First, thank you for your work and dedication! It's okay to keep working as long as you are taking precautions. If you have the option to transfer departments or adjust tasks to avoid working directly with COVID-19 patients, we recommend you talk to your supervisor and to your doctor or midwife. Most hospitals and healthcare facilities are willing to make these adjustments so don't be afraid to ask! Sources, Dr. Finke, Dr. Han, Dr. La Follette, Dr. Copel 5/31/2020.
Q: Will my OB be able to test me for COVID-19 or for COVID-19 antibodies to determine if I'm immune?
A: Unfortunately, not right now. Currently, testing isn't that widespread, but the medical community is working on it! If you have symptoms or your doctor feels you should be tested, they'll let you know where to go and what test you should receive. The antibody test isn't currently available outside of research purposes so you shouldn't expect to be able to be tested for antibodies by your doctor soon.
If you're interested in volunteering for the NIH study and being tested for antibodies, you can read more about that here. If you participate in the NIH study, you likely won't have your results for a while, and they currently recommend that your behavior remains the same even if you do have antibodies. Sources, Dr. Finke, Dr. Han, Dr. La Follette, 4/14/2020.
Q: How soon will the vaccine be available for people who are pregnant?
A: While the medical community is working on developing a vaccine for COVID-19, it's still many months away from release. Once the vaccine is ready to be tested on humans, pregnant people likely won't be eligible until significant research has been done because the risk is too high. If you are currently pregnant, or planning to become pregnant soon, you shouldn't expect to have access to a vaccine for COVID-19 during your pregnancy. Sources, Dr. Finke, Dr. Han, Dr. La Follette, 4/14/2020.
Q: How has prenatal care changed due to COVID-19?
A: While every provider is doing things a bit differently, and a lot will depend on the impact of COVID-19 in your area, most providers are doing some video or telemedicine visits instead of all face-to-face appointments.
You might be asked to buy a blood pressure cuff to monitor yourself at home. Your doctor will likely ask you to bring the cuff to your appointment so it can be calibrated.
Here's a link to a blood pressure cuff that Bay Area OB/GYN Dr. Lizellen La Follette recommends.
The University of California at San Francisco model for prenatal care is a good example for how prenatal care has been adjusted. Under this protocol, four prenatal visits will be in-person, the others will be via phone or videoconferencing.
There are differing views on how many prenatal visits are necessary for low-risk pregnancy. Your provider will likely want to see you in person for certain pregnancy milestones. This might include a visit in the first trimester to hear the heartbeat, an anatomy scan at 20 weeks and for the diabetes test around 28 weeks.
If you're pregnant with twins or have a high-risk pregnancy, you'll likely need more in-person visits. Your provider will let you know what they think is best for you. Make sure if you're seeing more than one provider, like an OBGYN and Maternal Fetal Medicine specialist, that they are communicating with each other as well.
Sources, Dr. La Follette, Dr. Han and Dr. Finke, 4/14/2020
Q: My pregnancy is a result of fertility treatment. Is it safe for me to have fewer face-to-face appointments?
A: Yes, if you have no complications. You may, however, need more ultrasounds. After you hear your baby's heartbeat for the first time, you should make an appointment for a 11 to 14-week scan or for non-invasive prenatal testing like cell free fetal DNA. Source, Dr. Copel, 5/31/2020
Q: I'm pregnant, how worried should I be about getting COVID-19?
A: This is a scary time for everyone, and everyone is feeling worried, but if you do get COVID-19 research is showing that most pregnant women don't experience serious symptoms. In fact, many are asymptomatic. Do your best to follow your local public health guidelines regarding staying at home and social distancing.
Out of the two million cases of COVID-19 worldwide, we've only had about 100 case reports on pregnancy. Pregnant women are probably not more likely to get COVID-19 than anyone else. There have been some reports of preterm labor among pregnant people who tested positive for COVID-19. Most preterm delivery cases have been reported later in pregnancy, after 34 weeks. If you do get COVID-19 and have significant complications, the most likely scenario is preterm delivery, which your OBGYN and NICU will be able to handle.  Sources, Dr. La Follette, and Dr. Finke, 4/14/2020
Q: What should I do if I have COVID-19 symptoms?
A: If you have any of the following symptoms, please go to the hospital or call 911:
Difficulty breathing
Can't keep fluids down
Dehydration
Confusion
For fever, cough, contractions, decreased fetal movement and other symptoms, call your OBGYN to determine if you should be evaluated in a healthcare center or get tested for COVID-19. During pregnancy, your OBGYN serves as your primary care physician.
Currently, there are no pharmacological treatments for COVID in pregnancy. All the treatments such as convalescent plasma (giving the plasma of someone who has COVID to someone currently battling it) hydroxychloroquine, and remdesivir are under investigation and not yet approved.
Because you are pregnant and are having symptoms of COVID-19, your doctor might refer you to enroll in one of the coronavirus pregnancy registries. These registries are recruiting pregnant patients with suspected or confirmed COVID-19 to learn more about the potential impact of coronavirus on pregnancy and birth outcomes. The studies are primarily observational and won't require you to alter your care or take any medications. For more information click here. Source, Dr. La Follette, and Dr. Finke, Dr. Han 5/5/2020
Q: Are pregnant people more susceptible to COVID-19 than the general population? And if I get COVID-19 and am hospitalized, am I at greater risk for pneumonia?
A: No. The limited studies released so far do not show that pregnancy makes you more susceptible to COVID-19 or a subsequent pneumonia. That's some reassuring news. Source, Dr. Copel, 5/5/2020
Q: Is it safe to take Ibuprofen during pregnancy for COVID-19 symptoms?
A: As a general rule, pregnant women should avoid ibuprofen and take acetaminophen for fevers, headaches and symptoms of flu and COVID-19. At this point, the World Health Organization is not recommending against taking ibuprofen for COVID-19 symptoms. More study is needed. Source, Dr. Copel, 3/25/2020
Q: If I have COVID-19, can my baby get it in utero?
A: We aren't sure yet. There are ongoing studies looking at this, but it's too early to know. Initially, doctors didn't think that the virus could reach the baby in utero, but a few small studies suggest that the virus may cross the placenta. Researchers didn't test the amniotic fluid, cord blood or placenta and swabs from the babies' throats did not show evidence of the virus. Since there were no positive cultures and the babies appeared otherwise healthy, it's unclear exactly what these blood tests mean. So far, COVID doesn't seem to cause fetal malformations.
What does this all this mean? Basically, that it's still unclear if the virus can cross the placenta and more study is needed. Sources, Dr. Copel, 3/30/2020, Dr. Han 4/15/2020
Q: What should I do if my partner or someone I live with gets COVID-19?
A: The person with COVID-19 should self-quarantine as much as possible and you should let your OBGYN know. You should also self-quarantine for 14 days if you've been exposed. If you don't have symptoms, there isn't anything else you need to do. Source, Dr. La Follette, 4/13/2020
Q: Is it okay to have routine dental care during pregnancy?
A: During the COVID pandemic, it's better to delay routine exams if there are no concerns for tooth decay or gum disease. Dental care should not be delayed indefinitely; you should go back to the dentist once routine COVID testing is available and only if your dentist's office is complying with strict sanitation and social distancing recommendations. During pregnancy, it is recommended to get routine dental cleanings/exams to prevent tooth decay. Tooth decay or infections of the teeth and gums lead to inflammation throughout the body and can occasionally cause harm to the pregnancy, like preterm labor. Source, Dr. Finke, 5/31/20
Q: Will I be tested for COVID-19 when I go to the hospital to give birth?
A: It depends on the hospital. It also depends on the availability and the number of tests that hospital can run. Be sure to tell your provider about any COVID-19 symptoms – dry cough, fever, fatigue and headache — when you arrive to give birth. Some hospitals in areas that have been hit the hardest by COVID-19 and have high rates of infection, like New York City, are testing all pregnant women as they come in.
In places where rates of infection aren't as high, you'll likely only be tested if you have symptoms or if you were likely exposed to the virus. Once testing becomes more widely spread, testing all pregnant women will become a priority. Source, Dr. Finke, 5/5/2020
Q: How will my delivery be different if I were to have COVID-19?
A: If you test positive or are showing any symptoms, you'll likely be asked to wear a mask to prevent transmission to the healthcare workers making sure your delivery goes smoothly. If you have COVID-19 during delivery, vaginal delivery is still the goal, there's no medical need for a c-section due to coronavirus. Both during and after delivery your breathing will be monitored more closely, especially between days 5-7 of showing symptoms, than if you didn't have COVID. This is because the changes in fluid volume that naturally happen during delivery can impact breathing.
After delivery, you'll have a conversation with your provider to decide together if it's best for the baby to be separated and cared for by someone else until there's no longer a risk of transmitting COVID-19 to your baby. If you and your provider decide that your baby should stay with you in your room, the baby should stay 6 feet away from you as much as possible, ideally with a sheet or glass panel in between you. While neither scenario is ideal, everyone's goal is to keep you and your baby healthy and safe.
You might be discharged earlier than you would have before COVID-19. If you and the baby are healthy, you could be discharged 12-18 hours after delivery for a vaginal delivery, and 2 days after if you have a cesarean.
Sources, Dr. La Follette, Dr. Han 4/13/2020
Q: Should I ask for an induction if I am 39 weeks pregnant?
A: Labor and delivery floors are staffed to provide care 24 hours a day. They operate independently from the rest of the hospital, so there is no need to worry about the safety of the space or the availability of beds on the labor floor.
Right now, the American College of Obstetrics and Gynecology and the Society (ACOG) and the Society for Maternal Fetal Medicine (SMFM) recommend against elective induction solely because of COVID-19. Inductions sometimes result in longer hospitalizations prior to birth than spontaneous labor does. That might increase your risk of being exposed to COVID-19 in the hospital. Source, Dr. Copel, 4/16/2020
Q: My due date is soon. Will I be able to bring my partner or support person into the delivery room?
A: The New York City Department of Health just made a rule that people who are delivering may bring one person into the room with them for support. Some hospitals may not allow any visitors. In other places, visitors are reduced to the minimum number necessary. Check with your OB practice for the latest update. Source, Dr. La Follette, 3/27/2020
Q: Should I consider having a home birth?
A: If you weren't already planning to have a home birth, it's best to stick with your original plan.  ACOG says that home births come with more risk than births in medical facilities, and COVID-19 doesn't change that. Hospitals are a safe place to be right now. COVID-19 patients are kept separate from non-COVID patients. The hospitals, except in hot zone areas, are calmer than usual due to the cancellation of elective procedures. Sources, Dr. Han, Dr. LaFollette, Dr. Finke, 4/13/2020
Q: What is the risk of the baby getting COVID in the hospital?
A: Extremely low. If you come into the hospital healthy to deliver, the risk is very low for the baby to contract the virus, because the baby will be rooming in with you. Some hospitals are moving COVID positive patients to dedicated COVID units to further lessen the spread of the virus within the labor and birth unit. Source, Dr. Copel, 4/23/2020
Q: How has postpartum care changed?
A: Doctors are trying to get moms and babies out the hospital a little sooner — if blood pressure is appropriate, bleeding is under the control and the baby is well. If you've had a normal delivery, you might be discharged 12 to 18 hours after delivery. If you've had a C-section, you might be released two days postpartum. Make sure to continue communicating with your provider once you get home with any questions or concerns, they're happy to help! Dr. La Follette 04/13/2020
Q: Can I breastfeed my baby if I have COVID-19?
A: If you have coronavirus or have been exposed to COVID-19, the CDC recommends that, if you choose to breastfeed, you wear a mask while feeding and wash your hands both before and after to minimize the risk of exposing your newborn to the virus. Research has shown that the virus is not found in breastmilk, so it's safe to give the milk to your baby if you follow these precautions. Prior to and after pumping, you should wash all the pump parts with soap and warm water.  While pumping, you should wear a glove and masks, and take every precaution to not touch your face. Once you've expressed the milk, clean the outer surface of the bottle with soap and water, and ask a healthy caregiver to feed the baby.
If you decide not to temporarily isolate from your baby, we recommend that you wear a mask and gloves every time you touch the baby.  Wash your breast with clean soap and water prior to feeding and leave on as much clothing as possible. When you're not breastfeeding or directly caring for the baby, we recommend staying 6 feet apart from the baby. Source, Dr. Han, 4/14/2020, Centers for Disease Control 4/06/2020
Q: Can I still choose to circumcise my biologically male baby after they are born in the hospital?
A: Yes, circumcisions are still being performed in the hospital. The provider who performs the circumcision will be wearing a mask and gloves and will be taking the same precautions as they do when performing any sterile procedure. Dr. Finke, Dr. Han, Dr. La Follette, 4/14/2020.
Q: Can my baby nurse, nanny, parents, or neighbor, come over to help me with the baby once I'm home from the hospital?
A: You likely had a postpartum plan involving family, friends, and maybe a baby nurse to help you care for your baby. Unfortunately, because of COVID-19, your plan might need to be adjusted. Ultimately, the decision is up to you and you'll have to weigh the risks and benefits. In general, it's a good idea to minimize the number of people going in and out of your house. Even if you know that the people you are inviting in have self-quarantined appropriately, everyone makes mistakes and ultimately, you can only control yourself. Many of the OBGYNs on our medical advisory board think that if local close family members have been self-isolating for at least 2 weeks, then they should be okay to come and help with the baby. Dr. Finke, Dr. Han, Dr. La Follette, 4/14/2020.
About Jubel
Jubel's mission is to empower you through your quest to form and build a family. We provide you with 24/7 personalized, medically-vetted education and resources via a digital coaching experience.
Medical Advisory Panel 
Christina Han, M.D., MFM,  @ChrisHanMFM (Greater Los Angeles)
Joshua A. Copel, M.D., MFM, Yale Medicine, @jacopel (NY Metro)
Larry Platt, M.D., MFM, Center for Fetal Medicine, UCLA Professor (Greater Los Angeles)
Andy Huang, M.D., REI, @drandyhuang (Greater Los Angeles)
Bradley Trivax, M.D.,  REI, @drtrivaxivf (NY Metro)
Carolyn Alexander, M.D., REI @DrCAlexanderFer (Greater Los Angeles)
Said Daneshmand, M.D., REI @USASurrogacyDoc (San Diego)
Alice Shapiro, M.D., REI, UCLA Fellow (Greater Los Angeles)
David Finke, M.D., OB-GYN, @drfinke (Greater Los Angeles)
Lizellen La Follette, M.D., OB-GYN, @LizellenObGyn (San Francisco Bay Area)
Sources:
Center for Disease Control and Prevention:
https://www.cdc.gov/coronavirus/2019-ncov/prepare/pregnancy-breastfeeding.html
American Society for Reproductive Medicine:
https://www.asrm.org/news-and-publications/news-and-research/press-releases-and-bulletins/sart-and-asrm-issue-advice-for-infertility-patients-concerning-the-novel-coronavirus-COVID-19/
https://www.asrm.org/news-and-publications/patient-management-and-clinical-recommendations-during-the-coronavirus-covid-19-pandemic/
American College of Obstetrics and Gynecology:
https://www.acog.org/Clinical-Guidance-and-Publications/Practice-Advisories/Practice-Advisory-Novel-Coronavirus2019
Last Updated: 6/3/2020
This information is general in nature and is not intended to diagnose or treat any specific conditions. You should consult with your physician before taking any action that may impact your health. Call 911 if you experience an emergency.