COVID-19, Fertility/Infertility and Pregnancy Info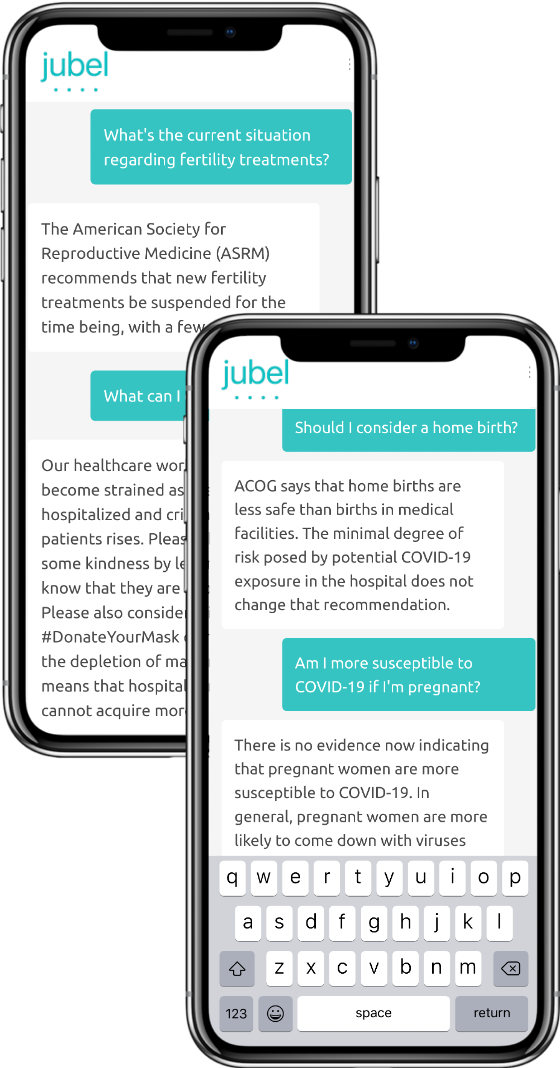 Meet Jubel – your digital fertility and pregnancy coach. Jubel empowers you on your journey from preconception to pregnancy and beyond. Created by doctors and your peers, Jubel gives you 24/7 access to personalized, medically vetted information and health and wellness resources.
While our full Jubel offering is almost ready for prime time, our Medical Advisory Panel is committed to helping you cut through the noise of COVID-19 now. Start chatting with Jubel like you would a friend, doctor or nurse to get your COVID-19 questions answered.
If you still have questions, read our FAQs below or email a question to covid19@jubelhealth.com. You can also send us a message on Facebook. We work to get you an answer quickly! Stay safe.
-The Jubel Team
Q: Postponing my fertility treatment (IVF, IUI, embryo transfer, etc.) was so unexpected, how can we cope with strong feelings about this?
A: Stay positive and remember that this is temporary, and you will be able to resume your fertility treatments as soon as it is safe to do so. Delaying treatment by a few months is unlikely to affect your probability of success, says Dr. Carolyn Alexander, M.D., a reproductive endocrinologist at Southern California Reproductive Center in Beverly Hills, California.
Stay as healthy as you can and take care of yourself mentally. This is a stressful time and finding healthy ways to manage your stress is important. Eat nourishing foods, try new recipes, make foods you have never had the time to make before. Ask your family members for recipes that remind you of your childhood. Don't overindulge in alcohol. 
Stay physically active with at-home work-out videos. There are lots of free exercise videos on-line, many don't require any equipment at all. There is everything from cardio to strength training to stretching videos for every fitness level, suggests Alice Shapiro, M.D., a reproductive endocrinology fellow at UCLA's David Geffen School of Medicine. 
Meditate with headspace or another app. Keep in touch with family and friends using video. Use this time as an opportunity to catch-up with old friends or family members. You've got this. Sources, Dr. Alexander, Dr. Shapiro, 4/1/2020
Q: What's the current situation regarding fertility treatments in the U.S.? 
A: We know how disappointing it is, but the American Society for Reproductive Medicine (ASRM) recommends that new fertility treatments be suspended for the time being, with a few exceptions such as preservation for cancer patients and completing cycles for patients already on medications. It's best to wait before going ahead with egg retrievals, embryo transfers, IUI, IVF and other treatments. If you want to reach out to your practice for a consultation, those will be done over the phone or by video chat, for your safety and theirs.  Sources, Dr. Huang, Dr. Alexander, 4/1/2020
Q: I am a cancer patient and was hoping to freeze my eggs before chemotherapy begins. Will I still be able to do it? 
A: Yes. For emergency cases such as fertility preservation for cancer patients, fertility centers and REI physicians will do everything possible to complete your care. Source, Dr. Huang, 4/1/2020
Q: Will I still be able to reach my physician and nurses?
A: Many offices are offering telehealth consults. Check with your doctor to see if you can get an appointment. In the meantime, we are happy to connect you with one of Jubel's REI medical advisors and their practices located in Los Angeles, San Diego and New York.  Email us at covid19@jubelhealth.com and we will connect you.
Q: If I get COVID-19 does it mean I'm immune? 
A: Maybe. We don't know how much the virus will mutate in the coming months. Significant changes in the virus would make people susceptible again, just like flu. Source, Dr. Copel, 3/27/2020 
Q: What can I do to boost my immunity? 
A: What you eat helps your immune system stay strong, says Jubel's fertility and pregnancy nutrition expert, Emily Mitchell, R.D. Eat probiotic-rich foods daily like yogurt, kefir, fermented foods (kimchi, tempeh, and miso). Mitchell recommends a probiotic drink or yogurt that contains lactobacillus and/or Bifidobacterium probiotics. Choose a variety of vegetables and fruits (buy a combo of fresh and frozen to ensure you have enough on hand). Eat lean protein like fresh and frozen fish, turkey and tofu. 
Remember to shop for foods you'll use in one to two weeks. Focus on what you can control — nutrition is one of those things.
She also recommends blending fresh or frozen spinach into a smoothie, or using frozen riced cauliflower instead of rice for extra vitamin C. Speaking of vitamins, consider taking 1,000 to 4,000 IU daily of Vitamin D especially if you are indoors more during the quarantine. Don't take any supplements claiming to kill or cure viruses. Source, Emily Mitchell, R.D., 3/26/2020 
You can also check out some additional recommendations provided by a Los Angeles based Fertility Nutrition Tele-Coaching company that works with some our medical advisors – Original Body by Joey.
Q: What should I do to avoid getting sick? 
A:
Wash your hands frequently, for at least 20 seconds each time. If you don't have access to soap and water, use hand sanitizer that is 60 percent alcohol. 

Avoid touching your face. 

Cough into a tissue, then wash your hands. 

Wipe down surfaces where the virus might lurk, like a shared computer keyboard or telephone. 

Avoid contact with people who are sick, especially if those people have traveled to areas where COVID-19 infections have been reported. 

Maintain "social distancing," six feet away from another person. 

Avoid non-essential travel, especially by airplanes.

Stay home except for essential errands like groceries and pharmacy. 
Source, Dr. Han, 3/25/2020
Q: What do I do if I have symptoms? 
A: Mild respiratory symptoms (such as cough, fever, etc.) are not a reason to be overly concerned.  
If you develop these symptoms and have been in contact with people who have been diagnosed with Coronavirus infection or traveled to areas where Coronavirus outbreaks have occurred, please contact your health provider for further guidance.   
Testing for the virus is now available through both the Department of Public Health and commercial labs but should be reserved for those who meet the criteria set out by your local public health officials.  Here is a listing of local departments of public health. Source, Dr. Han, 3/25/2020
Q: If I need to get tested, what will the test involve? 
A: The test is performed using a long Q-tip-like swab that is inserted into both nostrils.  Your provider will wear a face mask, gown and gloves when s/he performs the collection. The swab is then placed into a container with fluid, and snapped off into a container, which is kept cold and then sent to the laboratory. The turn-around-time for the swabs varies by the lab and region but may take several days. Source, Dr. Han, 3/25/2020
Q: I never got a flu shot this year. Should I get one now? 
A: Yes, flu season lasts until May. A simultaneous infection with both influenza and COVID-19 can be much worse than just one infection.  The vaccine has been shown to be safe in multiple large studies. People you are in close contact with should also receive the flu vaccine. Source, Dr. Copel, 3/25/2020
Q: Is it safe to go out? 
A: Yes, if you practice social distancing while out and limit your trips to places that are necessary like the grocery store and pharmacy. Social distancing means staying six feet away from others at all times. It's best to avoid non-essential travel. Stay on top of travel recommendations here. Source, Dr. Han, 3/25/2020
Q: Is it safe to get takeout from a restaurant, or should I prepare all my own meals? 
A: We recommend making your own meals. But if the prevalence of disease is low in your community, takeout is probably OK.  Source, Dr. Copel, 3/25/2020
Q: Can I visit elders, like grandparents, aunts, uncles and friends? 
A: You shouldn't physically spend time with anyone other than the people you live with (if they are healthy) without practicing social distancing. For the time being, it's probably safer to video chat with your loved ones. Source, Dr. Copel, 3/25/2020
Q: What can I do to help? 
A: Our healthcare workforce will become strained as the number of hospitalized and critically ill patients rises.  Please show them some kindness by letting them know that they are appreciated.  Please also consider joining the #DonateYourMask campaign, as the depletion of mask resources means that hospitals and clinics cannot acquire more.  Source, Dr. Han, 3/25/2020
Q: If I have COVID-19, can my baby get it in utero?  
A: Two small studies published last week from China suggest that the virus may cross the placenta based on the immune response of the baby. Since there were no positive cultures of the babies and the babies appeared otherwise healthy, it's unclear exactly what these blood tests mean.  All the babies studied were mildly affected, if at all.
Researchers found antibodies in the babies that recognized the virus, suggesting that it may have crossed the placenta.
However, researchers did not test the amniotic fluid, cord blood or placenta. Swabs from the babies' throats did not show evidence of the virus. 
What does this all this mean? Basically, that it's still unclear if the virus can cross the placenta and more study is needed. Source, Dr. Copel, 3/30/2020
Q: My due date is soon. Will I be able to bring my partner or other birth coach into the delivery room?  
A: The New York City Department of Health just made a rule that people who are delivering may bring one person into the room with them for support. Some hospitals may not allow any visitors. In other communities, visitors are reduced to the minimum number necessary. Check with your OB practice for the latest update. Source, Dr. La Follette, 3/27/2020
Q: Should I ask for an induction if I am 39 weeks pregnant?
A: Labor and delivery floors are staffed to provide care 24 hours a day. They operate independently from the rest of the hospital, so there is no need to worry about the safety of the space or the availability of beds on the labor floor. 
Right now, the American College of Obstetrics and Gynecology and the Society (ACOG) and the Society for Maternal Fetal Medicine (SMFM) recommend against elective induction solely because of COVID-19. Inductions sometimes result in longer hospitalizations prior to birth than spontaneous labor. And that might increase your risk of being exposed to COVID-19 in the hospital.  But some health systems are recommending inductions at 39 weeks or slightly earlier so people can give birth sooner since the pandemic is expected to get worse.
Source, Dr. Copel, 3/25/2020. Reviewed by Dr. Han, 3/30/2020 
Q: If I have COVID-19, will I need to be delivered by cesarean section? 
A: Assuming that both you and the baby are healthy and have no other reason for needing a C-section, the goal is still a vaginal delivery. Although cases reported from China indicate universal cesarean delivery, the policies and attitude toward cesarean delivery are very different than the recommendations in the U.S. So, COVID-19 isn't currently seen as a reason for a C-Section. Source, Dr. Han 3/30/2020 
Q: If I'm pregnant, am I more susceptible to the COVID-19 virus? 
A: There isn't any evidence right now indicating that those who are pregnant are more susceptible to COVID-19.  We do know that pregnant women are more likely to get severely ill from viruses in the same family as COVID-19. Pregnant people are being considered an 'at risk' group for this reason. This means if you're showing symptoms, your treatment may be handled a bit differently than if you weren't in an at-risk group. While the information is still incomplete, cases from China suggest that COVID-19 does not behave like influenza. Pregnant women with flu fare worse than non-pregnant women of similar health status. Source, Copel 3/27/2020 
Q: My pregnancy is a result of IVF. Is it safe for me to have fewer face-to-face appointments? 
A: Yes, if you have no medical complications. You may, however, need more ultrasounds because yours is an IVF pregnancy. For example, our experts suggest that after you hear your baby's heartbeat for the first time, you make an appointment for a nine to 10-week scan for non-invasive prenatal testing. Source, Dr. La Follette, 3/25/2020
Q: What proactive steps can I take if I am working with a gestational carrier?
A: Considering travel restrictions, babies born to gestational carriers may not be united with their new parents right away. It's important to devise a contingency plan if babies need to be cared for until they can join their new parents.
Q: Should I consider a home birth? 
A: If you weren't already planning to have a home birth, it's best to stick with your original plan.  ACOG says that home births come with more risk than birth in medical facilities, and COVID-19 doesn't change that. Source, Dr. Copel, 3/30/2020
Q: I just found out I'm pregnant! How will my prenatal care change now that we have "Stay at Home" orders? 
A: Congratulations! It's likely that during the COVID-19 pandemic, prenatal care will include some video or telemedicine visits instead of face-to-face appointments. The exact number of tele-medicine visits will vary – check with your doctor. 
Some patients may be asked to buy a blood pressure cuff to monitor themselves at home. Your doctor will probably ask you to bring the cuff to your appointment so it can be calibrated. 
Here's a link to a blood pressure cuff that Bay Area OB/GYN Dr. Lizellen La Follette recommends. 
Right now, San Francisco is under an extreme "Stay Home" order, so the University of California at San Francisco model for prenatal care is a good test case for prenatal care in the time of COVID-19. Under this protocol, four prenatal visits will be in-person, the others will be via phone or videoconferencing. 
The idea is to provide great care, while observing social distancing to prevent COVID-19. The reduced number of visits covers a lot of different types of patients. If you are 40 or under and have no medical complications and have a BMI of less than 40, you'll be fine doing some tele-medicine. Women who use tobacco or marijuana, patients with hypothyroidism, well-controlled anxiety or depression and other conditions will also be fine with fewer visits. 
Check with your doctor to be sure. Source, Dr. La Follette, 3/25/2020
Q: Can I have a bris (ritual circumcision performed on the eighth day of life) for my baby boy? 
A: You absolutely can, provided the baby is healthy and the mohel is fully gloved, gowned and wearing a mask and face shield. If the baby is ill in any way, talk to your rabbi about postponing the bris until the baby is healthy. Unfortunately, the celebration of the new baby will have to wait. Only the parents should attend the bris . Source, Dr. Platt, 3/26/2020 
Q: Will I be tested for COVID-19 when I go to the hospital to give birth? 
A: It depends on the hospital. The situation varies depending on the availability and the number of tests that hospital can run in any given period of time. Be sure to tell your doctor or midwife about any COVID-19 symptoms – dry cough, fever, fatigue and headache — when you arrive to give birth. Source, Dr. Copel 3/27/2020
Q: Should I wear a mask? 
A: Those who are pregnant should stick to the same standards as everyone else. If you have COVID-19 or the symptoms of it, you shouldn't be out in public. But if you're in transit to the doctor's office or hospital, wear a mask. Source, Dr. Copel, 3/25/2020
Q: I've got a fever, muscle aches, fatigue and cough, all the symptoms of COVID-19. Should I call my general/primary care doctor or OB/GYN? 
A: Start with your primary care doctor or internist and keep your OB fully informed. You can also check in with your local hospital's COVID-19 hotline. Source, Dr. Copel, 3/25/2020
Q: Is it safe to take Ibuprofen? 
A: As a general rule, pregnant women should avoid ibuprofen and take acetaminophen for fevers, headaches and symptoms of flu and COVID-19. For those who are trying to get pregnant, experts have not yet weighed in on ibuprofen vs. acetaminophen. At this point, the World Health Organization is not recommending against taking ibuprofen for COVID-19 symptoms. More study is needed. Source, Dr. Copel, 3/25/2020
About Jubel
Jubel's mission is to empower you through your quest to form and build a family. We provide you with 24/7 personalized, medically-vetted education and resources via a digital coaching experience.
Medical Advisory Panel 
Christina Han, M.D., MFM,  @ChrisHanMFM (Greater Los Angeles)
Joshua A. Copel, M.D., MFM, Yale Medicine, @jacopel (NY Metro)
Larry Platt, M.D., MFM, Center for Fetal Medicine, UCLA Professor (Greater Los Angeles)
Andy Huang, M.D., REI, @drandyhuang (Greater Los Angeles)
Bradley Trivax, M.D.,  REI, @drtrivaxivf (NY Metro)
Carolyn Alexander, M.D., REI @DrCAlexanderFer (Greater Los Angeles)
Said Daneshmand, M.D., REI @USASurrogacyDoc (San Diego)
Alice Shapiro, M.D., REI, UCLA Fellow (Greater Los Angeles)
David Finke, M.D., OB-GYN, @drfinke (Greater Los Angeles)
Lizellen La Follette, M.D., OB-GYN, @LizellenObGyn (San Francisco Bay Area)
Sources
:
Center for Disease Control and Prevention:
https://www.cdc.gov/coronavirus/2019-ncov/prepare/pregnancy-breastfeeding.html
American Society for Reproductive Medicine:
https://www.asrm.org/news-and-publications/news-and-research/press-releases-and-bulletins/sart-and-asrm-issue-advice-for-infertility-patients-concerning-the-novel-coronavirus-COVID-19/
https://www.asrm.org/news-and-publications/patient-management-and-clinical-recommendations-during-the-coronavirus-covid-19-pandemic/
American College of Obstetrics and Gynecology:
https://www.acog.org/Clinical-Guidance-and-Publications/Practice-Advisories/Practice-Advisory-Novel-Coronavirus2019
Last Updated:
4/1/2020
This information is general in nature and is not intended to diagnose or treat any specific conditions. You should consult with your physician before taking any action that may impact your health. Call 911 if you experience an emergency.